Magic Skate
Program Objective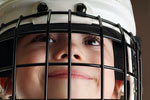 Magic Skate's objective is to improve your kid's skating abilities while having fun. Even though it's not a hockey or a ringette program per say, it prepares the kids well to make the transition to these sports. Each lesson is designed to challenge and allow each skater to progress at their own pace. We use many objects and materials to help us achieve our objective (balls, hoops, bungee cords, etc).
Details
20 lessons per season (60 minutes per lesson) = 20 hours of ice time.
The program is designed for 4, 5 & 6 year old kids.
Ratio: Minimum 8 to 10 qualified coaches per lesson. Minimum 1 coach per 4 skaters.
Cost of registration: $442 + Tx = $500 (includes 20 hours of instruction, taxes and a jersey).
Program Coordinator and Head Instructor: Roland Collette
Season: Starts the 1st or 2nd weekend of October and finishes at the end of March.
Technics
Balance & Agility
Stride (forward skating)
Starts
Stops
Turns
Crossovers
Backward Skating
Please contact us to inquire about upcoming Magic Skate events.